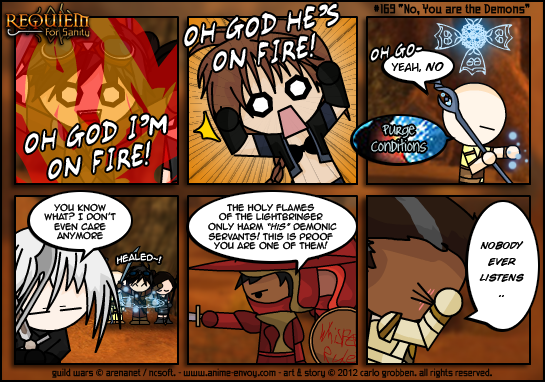 Author's Notes:
You just know it's an apocalypse when Requiem gets an update.
The Order of Whispers uses Lightbringer Skills. These skills can only harm demons. And since Karuro here burst into flames out of nowhere.. What? Nobody cast anything? Not everyone shouts out attack names like in a shounen manga! Everyone is also giving up on the Vanguard acting rationally.
--
OH GOD, A HIATUS THAT RIVALS BERSERK!
And I'm not even an Idolmasters fan...
21 December 2012
---
Copyright © 2005 - 2022 Carlo Grobben. All rights reserved. Layout based on that of the Guild Wars website of 2006.
Guild Wars™ is © copyright of Arenanet and NCSoft. The rest is copyright of their original creators.